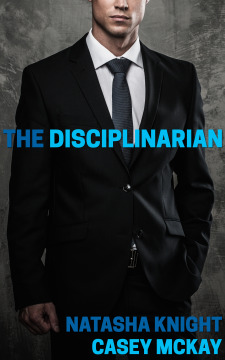 Summary:
The role of a disciplinarian can come in many different forms in a woman's life. These stories are about six different women who find themselves taken in hand, and taken over the knee.
"The Disciplinarian": Jennifer didn't know what a disciplinarian was. She didn't know adults could be spanked as punishment, but when her boss catches her stealing, she is told if she doesn't want the police involved, she'll have to submit to a session with The Disciplinarian.
"Guilty As Charged": Julie has the hots for her cop neighbor, Brad, who is also a professional disciplinarian. When he catches her driving recklessly, he decides she might need more in her life than one spanking a week.
"Consequences": Every action has a consequence, and in twenty year-old Andrea's case, when she's caught breaking hotel rules, she is given a choice: pack up your things and leave immediately or submit to corporal punishment. But what Andrea never expected to learn out of this was that discipline, administered with love, can form a powerful bond.
"Paying Rent": When Amber gets kicked out of college and ends up on Tony's doorstep, she doesn't anticipate Tony taking an interest in her life, or holding her accountable for her actions; including paying her rent on time. When he threatens to spank her, she decides to push back, but how far is too far?
"The Penitent": Marcus Corran is not a man to tolerate liars or thieves, so when he catches young Marlene, an employee in his bookstore, doing both, he decides the best way to deal with her actions is a good old fashioned, bare bottomed, over the knee spanking.
"The Agreement": Lindsay and Nick have been dating for two years and they have an agreement. So when Lindsay deliberately lies, Nick decides to use a more creative form of punishment.
Book Links
Author Bios
Natasha Knight
Natasha Knight is the author of several BDSM and spanking erotic romances all of which explore the mind of the Dominant male and the submissive female, discovering just beneath the surface of each story that key element of love. Her characters are as human as she: powerful but vulnerable, flawed, perhaps damaged but with an incredible capacity to love
Casey McKay
Casey McKay enjoys fighting the boredom of her soul crushing day job by being a spanking fiction writer by night. Writing books she would like to read- not surprisingly they all become romance novels, with lots of spanking. She likes a good romance, with a little bit of comedy, a happy ending, and of course some spanking.
Website(s)
http://www.natasha-knight.com
http://www.caseymckay.com
Social Media: