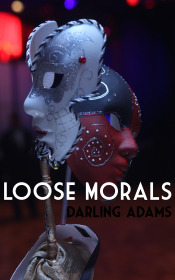 Summary
When Sasha Deschamps unwittingly attracts the attention of a strange man on her late night walk home from work, she winds up with a supernatural guest she can't get rid of. The dominant immortal demands her complete submission and cooperation, refusing to free her until she has performed an act of magick, one which she does not know how to even begin.
Charlie sees the power in Sasha and believes she has the ability to undo the curse placed on him by a jealous lover over one hundred years before. He also loves toying with the feisty witchling, doling out humiliating punishments while arousing a lust in her that leaves them both hungry for satisfaction.
Emotionally detached to the point of amorality, his motto has been "friendly with many, close to none", but he finds himself falling for Sasha, believing he might be able to trust a woman again. When he discovers she is actually the reincarnated witch who cursed him, though, his world turns on end. Can he believe she has returned to his life to heal the rift between them? Or will he walk away from her again, as he did so many years ago?
Book Links