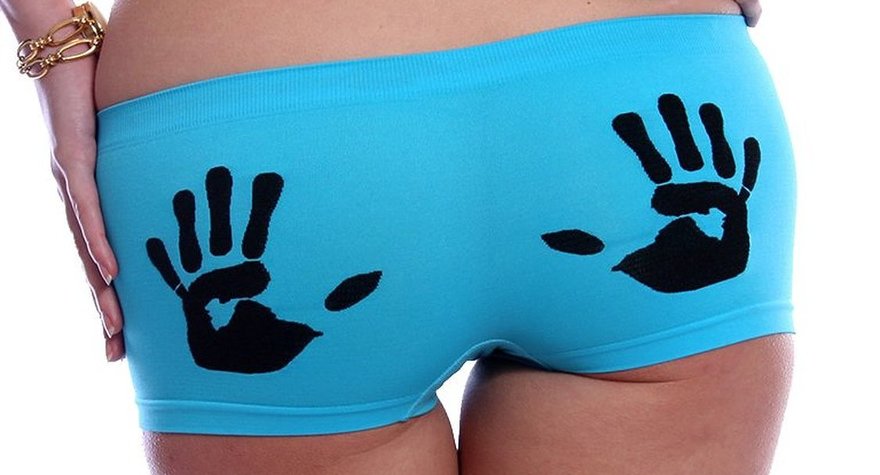 I make it no secret that my husband and I like to try new, kinky things from time to time. I feel very lucky that he indulges my kinky side and buys us new things to try out.
One of these items was the Black Rose Spank and Soothe Cream by Doc Johnson.
My thinking is he saw the word 'spank' and thought, "Hey, my lady likes to be spanked." And then clickity clicked, added it to the online cart. (He doesn't really talk like that, this is my imagination)
But it seemed like something different and like it could be fun. The idea of it is the spank cream is supposed to make your butt feel warm and I am guessing the spanking be a bit stingy-er. The ingredients listed on it were ginger, pepper, and cinnamon. Sounds good to me!
Then the soothe cream is supposed to be for after (obviously)- it has aloe in it. Okay, I get the idea, this could be fun! We got nothing else going on tonight, so why the hell not?
We get to a point in the night when we are ready to get down and dirty. I have on some sexy lingerie, we may have watched some cable porn, we are revved up and ready to go. My husband gets the spank cream out and instructs me to bend over the chair in the living room, I eagerly comply, cannot get myself into position quick enough.
It's called a cream, I am assuming it will be the consistency of body lotion, maybe a little thicker. But thinking it will rub in and virtually disappear. My husband starts to apply it. It feels sort of cold, he spreads it on all over both cheeks. I hear him mumble something that sounds like "Should I rub it in more?" He kind of moves his hands back and forth across my ass, and then starts asking me if I feel any different.
"Nope." I feel nothing, but maybe it kicks in as he spanks? Yes, this must be it. He picks up the leather paddle we have and I hear a "thwack" as he smacks it against my ass. I don't really feel anything, but I am aware that he is still holding it against me. I glance back at him to see his perplexed look. Then I hear a "thwuck" as he pulls the paddle back, and out of the sticky goop he applied to me. I immediately bury my face in the cushion of the chair because I am about to lose it, the paddle just got stuck to my ass, this is no longer sexy and has immediately turned into some kind of kinky "I Love Lucy" episode.
He tries again, getting the same result, and this time he actually mutters, "What the hell?"
My shoulders are shaking in unrestrained laughter at this point.
"Maybe it's this paddle?" He asks me. "I'm going to try something else."
He gets a wooden spoon. We have the same outcome. He shakes his head "This stuff is gross. It's all over everything."
I reach my hand back to touch my butt, and yeah, it's pretty gross. It's tacky to the touch, not only that, but I am feeling nothing from it. No warming, or burning feeling, just sort of sticky and gross.
We are both laughing at this point. But we persevere, we had a game plan in mind dammit and we are not letting some sticky goop get in the way of our fun.
So he loses the implements, and settles on just using his hand to give me a few hard smacks. Then he took me from behind, effectively getting sticky goop all over the front of himself as well.
We had to end our night taking a shower together. A very unsexy shower, as we were using a loofa to try to scrub the goop off, because it is apparently water proof.
I would call this a sex toy fail. We still had fun, but a word to the wise, Beware of the Goop!
Casey McKay enjoys fighting the boredom of her soul crushing day job by being a spanking fiction writer by night. Writing books she would like to read- not surprisingly they all become romance novels, with lots of spanking. She likes a good romance, with a little bit of comedy, a happy ending, and of course some spanking. Follow her blog at  www.caseymckay.com